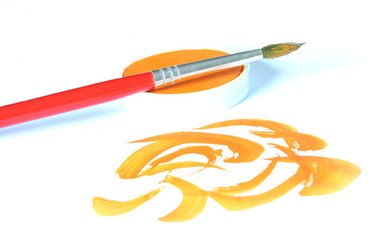 Giclee printing is a technique for reproducing original paintings. Giclee, which originated in France, uses a high-resolution digital photograph to reprint the painting. This technique is said to reproduce the colors of the painting better than other forms of reproduction. Giclee is produced by ink-jet printers, and it's an advantageous option for artists who want to reproduce a small amount of their art to order. Once the painting exists in digital form, it can be reproduced at the artist's leisure.
Step 1
Choose whether you want to buy prints from a company or if you want to buy a giclee-quality printer and make the prints yourself. The choice depends on how many giclee prints you want and whether you will want to continue to make giclee prints over time.
Buying a giclee-quality printer can cost $3,000 to $13,000, depending on the quality and brand of the printer. If you plan to make many giclee prints, invest in your own printer. Some suggested brands of giclee-quality printers are the Imageprograf IPF9000S by Canon, the Designjet Z3100 by HP and the Metaza MPX-80 by Roland.
Ordering giclee prints of your artwork can be cheaper if you don't plan to make many. Depending on the size of your painting, one print can cost between $50 and $200. Larger paintings will cost much more than mini paintings. You can order prints online or visit a photography or specialty printing shop.
Step 2
Choose a painting from which you want to make a print. You will need a digital image of your painting to make a giclee print. If you have a high-definition camera, you can photograph the painting yourself. If not, most giclee printing services will do this for you for a fee.
Turn off the flash of your camera and photograph your painting in natural sunlight. Lean larger pieces against a wall to shoot. Take several pictures, and choose the best one for your giclee print.
Step 3
Choose whether you would like your print to be on canvas or paper. If you're ordering your prints from a service, the service will let you know what mediums you have as an option. If you are doing the printing yourself, the choices of mediums you have depend on what your printer is capable of printing on. Load your photographed image into your computer and print it in the highest quality possible.