Things You'll Need
Acrylic paints

Rabbit skin glue

Brushes

Staple gun, or tacks and a hammer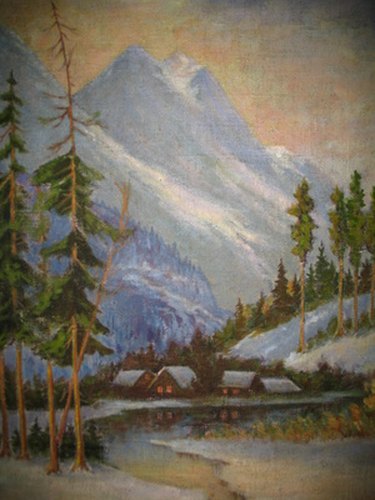 Painters frequently prime stretched canvas with several layers of gesso, a chalk-based paint that seals cotton and linen fibers from the damaging effects of oil paint and oxidation. Without a proper sealing agent, canvas fibers will begin to rot within several years after oil paint is applied to them. Artists may prefer to mix their own specially textured primer for canvas, or opt to keep the canvas they paint on its natural color by using a transparent coating. Either way, alternatives to applying a gesso ground to canvas can offer options that will enhance your paintings.
Paint With Acrylics
Step 1
Brush paint directly on unprimed -- no gesso applied -- canvas with acrylic artist's colors. While oil paint will have a detrimental effect on raw canvas, acrylic paint, which is plastic-based, will not cause cotton and linen fibers to rot.
Step 2
Apply artist's varnish to your finished acrylic painting to prevent dirt and mildew from working their way into the fibers.
Step 3
Apply a coat of gloss or matte medium to the painting to give it a protective shield.
Rabbit Skin Glue
Step 1
Prepare a batch of rabbit skin glue by placing the glue pellets in hot water and allowing them to dissolve into a jelly-like state. Made from rabbit hides, rabbit skin glue is a centuries-old sizing material used by artists. It protects cotton and linen from the oxidizing effects caused by the linseed oil found in oil paints and grounds.
Step 2
Cover the rabbit skin glue-sized canvas with two or three thin coats of flake white oil paint. Lightly sand each coat after it has dried for a smoother painting surface.
Step 3
Paint on your dried surface with oil paint. For acrylic painting, cover the surface with flake or titanium white acrylic paint. You can also paint in oils on top of an acrylic white ground, but you cannot paint in acrylic over an oil covering because the paint will not adhere.
Stain Painting
Step 1
Lay a piece of wood on the floor the size of the painting you intend to create. Staple or tack a piece of unprimed, unsized canvas to the board with a row of staples or tacks about 1 1/2 inches apart along the four outer edges of the canvas. Soak the canvas with water. The water will make the canvas shrink to a tight fit against the wood.
Step 2
Dilute acrylic paint with water to make your colors thin and pourable. Use brushes and sponges to apply the liquid colors to your canvas.
Step 3
Wait for each layer of color to dry before applying another, or work directly on top of a wet layer of paint for a different effect. The unsized fiber will absorb the paint like watercolors on paper.