Things You'll Need
1/2 cup cooking oil

2 cups sliced potatoes (1/4-inch thick)

1/2 cup chopped onion

8 eggs

Salt and pepper

1/4 cup each chopped tomatoes, cooked navy beans, cooked spinach or shredded cheese (optional)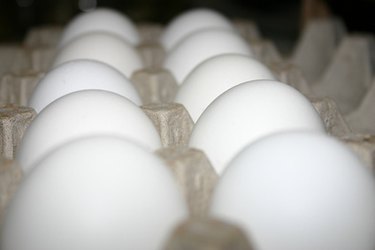 A Spanish omelet, a common Mexican dish served at any time of the day, varies in ingredients according to personal preferences and locality. The standard ingredients in a Spanish omelet include eggs, potatoes and onions. From here, enterprising cooks can experiment by adding tomatoes, beans, cheese and green vegetables. Try making a Spanish omelet in a slow cooker for a simple meal that cooks on its own and is ready when you want it.
Step 1
Pour 1/2 cup cooking oil into a 10-inch frying pan, and heat the oil over medium heat.
Step 2
Add 2 cups sliced potatoes and 1/2 cup chopped onions to the hot oil, and cook them for about 10 minutes. Stir the potatoes and onions every minute or so as they cook. The potatoes will not cook through completely -- they just partially fry on the stove, and then they will finish cooking in the slow cooker.
Step 3
Rub oil on the inside of the slow cooker, greasing it to prevent the omelet from sticking.
Step 4
Beat eight eggs in a bowl with a wire whisk. Add salt and pepper to the eggs to taste.
Step 5
Mix the potatoes and onions gently with the eggs. Add any desired optional ingredients to the eggs, stirring everything well.
Step 6
Pour the mixture into the slow cooker, and place the lid on it.
Step 7
Set the temperature to "Low," and cook the Spanish omelet for about eight hours. Sprinkle cheese over the top of the omelet during the last 30 minutes of cooking time, if you desire.
Tip
Start the Spanish omelet in the slow cooker before you go to bed, and enjoy it the next morning.
This recipe serves six.