Things You'll Need
Shoe polish

Shaving cream

Bar of soap

Window markers or liquid chalk

Glass cleaner

Paper towels

Window clings (optional)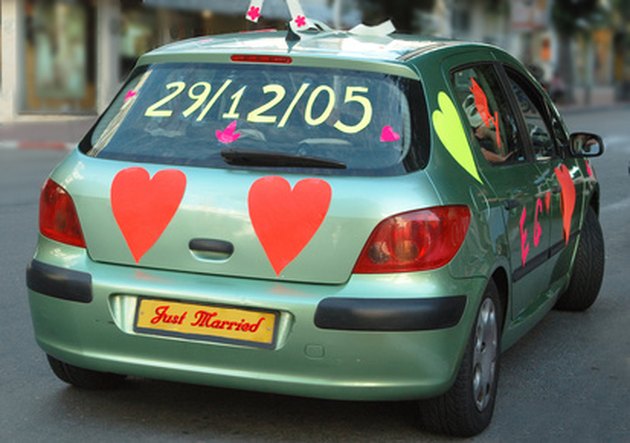 Decorating the windows of the getaway car for a wedding with the words "Just married" or plastering "Congratulations" for a recent graduate might seem like a great idea, but it's best to know more before you start decorating their car windows. There are many different tools you can use, but choosing them can be hard because you don't want to damage the paint of the vehicle or leave the windows streaky for months. Decorate car windows without leaving a mess behind -- only happy memories of a deed well decorated.
Step 1
Pick and purchase the window-writing tool of your choice before attempting to decorate the windows of the car with just anything you have lying around the house. You can use good old-fashioned shoe polish, but that can be hard to remove from windows. Other writing tools you can use are shaving cream, a bar of soap, window markers or liquid chalk. Most of these can be removed easily with soap and water.
Step 2
Wipe down the car windows with glass cleaner and paper towels before decorating. This will create a clean, dust and dirt-free area for you to work on, which will make the decorating process easier. Otherwise, you can always drive through a car wash before you decorate, which will leave the whole car sparkly clean and ready for decoration.
Step 3
Place window clings or other large window decorations on windows first, before writing and decorating around them. Try the vinyl window clings available online; they come in all shapes and sizes and even in decorative letters. They save you time, quickly stick to windows and peel off with ease.
Step 4
Write on the windows with the tool you previously chose, using messages of congratulations and such on the back and rear windows and making sure the driver can still see. For recent graduates, try something like "Congratulations class of (year)" or "Honk for the class of (year)." For vehicles used to transport the bride and groom after a wedding, classic sayings are "Just married" and "Honk, we're just married."
Tip
If you make a mistake in one of your written designs, just use the window cleaner and a paper towel to correct it, then continue decorating.
Warning
If using shoe polish on windows, you must write carefully because some types of polish can damage the paint on the vehicle.