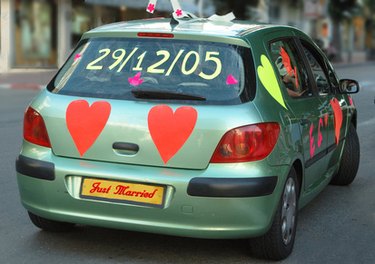 Whether you want to wish a loved one a happy birthday, celebrate a honeymoon or announce a graduation or anything else, decorating a car window is a fun way to do it. You can use window paint markers or other items to write messages and draw pictures. Before writing on your car windows, you'll want to know how to decorate them safely in a way that makes for easy removal.
For best results, you should clean the windows before painting them. This cleaning removes any dirt or debris and allows the window paint to better adhere to the glass regardless of the type you use. You don't need any unique products for this job. Just use regular window cleaner and paper towels or lint-free cloths.
If you're decorating the outside of the car windows, you can simply drive the vehicle through a car wash to get the windows squeaky clean. More than likely, though, you'll want to paint the interior of the windows. That way, if it rains, you don't end up with window paint washing down the side of your car.
Using Window Paint Markers or Other Items
There are several products that you can use to paint your car windows. The most straightforward and obvious is window paint markers, which you can buy at craft stores or online. These items look like large markers but usually contain chalk rather than ink.
You can also use shoe polish for car windows, but it might end up being somewhat tricky to remove. You can use a regular bar of soap to write on car windows, and soaping windows for privacy is also an option as long as the car isn't being driven. Finally, shaving cream and liquid chalk will also work but be careful not to get the shaving cream on the outside of the car's body.
To clean the paint from car windows, you can use standard window cleaner and paper towels. Use a metal paint scraper for more stubborn paint but be very careful not to scratch the windows. Feel free to drive the car through a car wash if the paint is on the outside.
Now that you've assembled your tools and the windows are clean, it's time to paint and decorate. If you're planning on using any vinyl or window decals in addition to the paint, place those first. That way, you don't need to account for their size or placement later. Then, write or draw any significant or primary messages. For example, if you're decorating for a honeymoon, write "Just Married" on the back window before drawing the bells, and if you're celebrating a graduation, draw the cap and tassel first.
Once you have applied your decals and your main messages or drawings are complete, you can move on to the embellishments and the rest of the decorations. Don't neglect the details – add swirls and smiles in the corners of the windows or the sides. Another thing that people sometimes do is to add a Venmo or PayPal account name and ask for donations. If you're decorating for a bachelorette party, you could create a special account for the event and write "buy the bride-to-be a drink!"
As you work, be mindful of the sight lines of the driver. You may even want to climb into the driver's seat and make sure you can see adequately. If you need to remove some of the paint or if you make a mistake, use window cleaner and paper towels to repair it.