Things You'll Need
Shallow-sided baking pan

Meat thermometer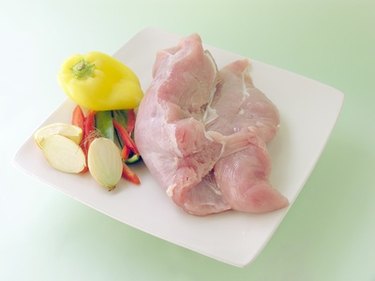 Cooking two turkey breasts will give you a similar amount of meat as a whole turkey, but all white meat. Roasting turkey gives it a rich flavor and it is the most common preparation method for this Thanksgiving favorite. Many people encounter problems with roasting when they cook the turkey too long, drying out the breast meat. Avoid this by using a meat thermometer, which will tell you when to take out the turkey breasts from the oven once they are safely cooked to kill bacteria yet still moist. For best results cooking two turkey breasts at once, use breasts of roughly the same size.
Step 1
Preheat the oven to 325 degrees Fahrenheit.
Step 2
Arrange the two turkey breasts in a baking pan with the meat side up. Season the turkey breasts according to your recipe.
Step 3
Roast the turkey breasts based on the weight of the larger breast, but add 15 minutes to the total cooking time. For example, if you are cooking a 4-lb. turkey breast and a 3½-lb. turkey breast, use the cooking time for the 4-lb. breast. Cook 2- to 3-lb. breasts for 1 3/4 to 2 1/4 hours; 4- to 6-lb. breasts for 1 3/4 to 2 1/2 hours or 6- to 12-lb. breasts for 2 1/2 to 3 3/4 hours.
Step 4
Insert a meat thermometer probe into the thickest part of the largest breast.
Step 5
Remove the turkey breast from the oven when it reads 170 degrees Fahrenheit.
Tip
Cook stuffing outside the turkey breast for a shorter cooking time for the turkey and to thoroughly cook the stuffing.