Nicknamed "Dixie cup," a sailor's cap is a round hat with an upturned brim and no visor. Whether you're making a fashion statement or a costume accessory, this style is simple to make and allows for a variety of embellishments.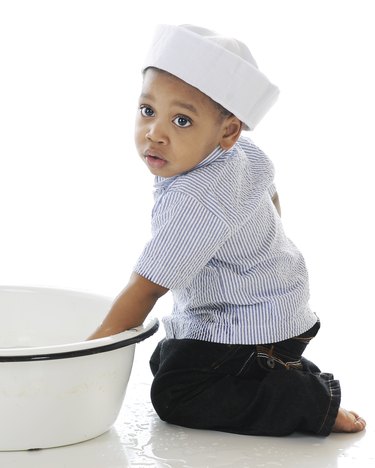 Things You'll Need
Scissors

Sewing Machine

1/4-Yard Heavyweight Cotton Duck, Canvas Or Felt Fabric (36 Inches Or Wider)

Iron

Tissue Paper

Dressmaker'S Pins
Step 1
Draw a triangle that is 4 inches at its base and 5 inches from the base to the peak on the tissue paper. Cut the top corner to round it slightly and cut it out to use as your pattern. You can just cut the corner, or you can trace around a penny as a pattern. This serves to remove some of the fabric's bulk.
Step 2
Fold the fabric in half, aligning the selvages. This will allow you to cut more than one triangle at a time.
Step 3
Pin the pattern to the fabric and cut out the shape. Repin and cut two more triangles. You should have four rounded triangles.
Step 4
Stack two triangles with their right-sides together. Pin and stitch along one long edge with a 1/4-inch seam allowance to form a piece that you can open like a book. Repeat with the other two triangles.
Step 5
Open the joined triangle sets and stack them with their right-sides together. Pin the unsewn edges and stitch them with a 1/4-inch seam allowance. This produces the cone-shaped top of your hat.
Step 6
Press all of the seams open.
Step 7
Measure and cut out 15-by-2 1/2-inch rectangles of fabric to make the brim of the hat.
Step 8
To make the hem, fold 1/4 inch up on one long side of the rectangle and press it. Fold up another 1/4 inch and stitch the hem through the center of the fold.
Step 9
Pin the rectangle to the cone, right-sides together and raw edges aligned, overlapping the ends slightly when they meet.
Step 10
Stitch the brim to the cone-shaped hat. Press the seam open.
Step 11
Flip the hat right-side out and turn up the brim.
Tip
Add rows of ribbon to the brim to make stripes for your hat.
To use a lighter weight of fabric, attach fusible interfacing with your iron to the wrong sides of all of the pieces before stitching them together.
Embellish your new hat with appliques, buttons, beads or other trim.