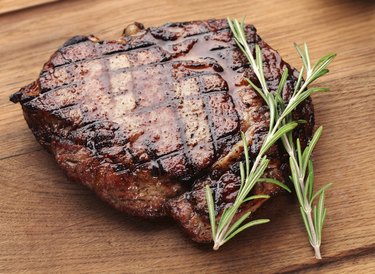 Despite reports that King Henry VIII of England christened his favorite cut of beef "Sir Loin," it is more likely that the name is derived from the French "surlonge" meaning "above the loin." Beef connoisseurs who consider loin top sirloin to be one of the tastiest cuts of beef believe it should be seasoned only with salt and pepper and always served a little underdone. A beef loin top sirloin roast contains both the top sirloin and tenderloin muscles and is best roasted in the oven, but can also be cut into steaks and grilled or broiled.
Step 1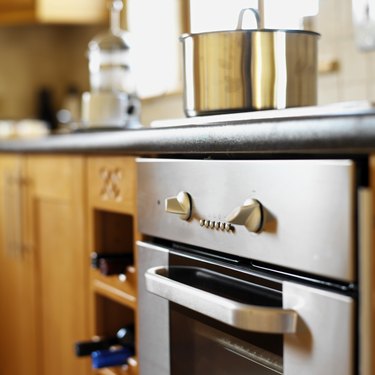 Preheat the oven to 450 degree Fahrenheit.
Step 2
Rub the beef with salt and pepper. Place the top sirloin into a roasting pan on a rack and place in the center of the oven uncovered, fatty side on top. Cook for 15 minutes to sear the outside of the beef and seal in the juices. Turn the oven temperature down to 325 degrees F and cook for 15 to 18 minutes per pound. Use a meat thermometer in the fleshy part of the beef to test the temperature periodically. A temperature 130 to 135 degrees F will be medium rare and will give the best flavor and juiciness. If you don't like it rare, continue cooking until it reaches 135 to 145 degrees F. If you cook it any further, you will dry it out.
Step 3
Remove the beef from the pan and wrap in aluminum foil, shiny side in. Leave in a warm place for 20 minutes. The meat will continue to cook and the internal temperature will rise another 5 to 10 degrees F.
Step 4
Carve into thick slices around 1/3 inch thick and serve with roasted potatoes, green and yellow or orange vegetables, and brown gravy.
Tip
Use the juices in the pan to make the gravy after removing the beef and wrapping it in foil. Place the pan on a burner and add half a cup of cold water containing a well-mixed tablespoon of flour. Stir continually to prevent sticking and lumpiness and add water until the gravy is the right consistency -- just thick enough to stick on the meat.