Vinyl tablecloths can be used every day, and many are suited for both indoor and outdoor use. They last a long time, protecting kitchen and dining tables from spills. Some vinyl tablecloths also have a flannel backing to keep them from sliding back and forth when in use. They are often cheap enough to have one for every season and holiday, if desired. Fortunately, vinyl tablecloths require little care to keep them clean and in good shape.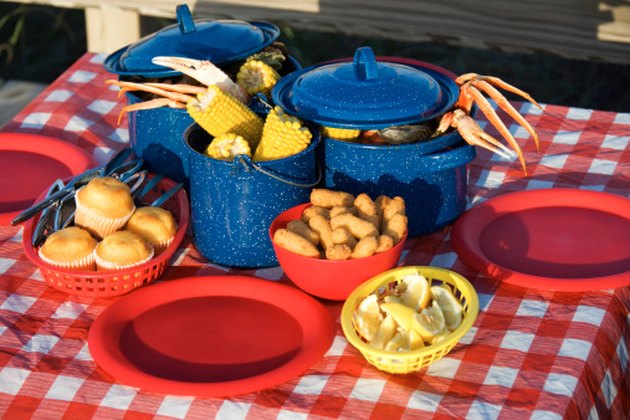 Things You'll Need
Dish-washing soap

Rag or sponge

Kitchen cleaner

Laundry detergent or non-chlorine bleach

Iron

Pillowcase
Step 1
Wipe the vinyl side clean with a soapy, damp rag or sponge, the same as you would your countertop. If both sides are vinyl and the other side is dirty, flip it over after the top side dries and clean the underside in a similar manner. Flip it back over once the underside dries.
Step 2
Clean a vinyl tablecloth with kitchen cleaner -- such as one labeled as anti-bacterial -- after exposure to raw meat or to remove stubborn stains. And, if the cleaner directions call for it, wipe it with a wet rag or sponge afterward to rinse, often suggested for eating surfaces. Again, if both sides are vinyl and need cleaning, clean the underside in a similar manner, but only after the top side dries.
Step 3
Wash a vinyl tablecloth with a flannel backing with laundry detergent or non-chlorine bleach in your washing machine's gentle cycle. Use cold water and the recommended detergent amount. You can also wash it by hand if you're worried it may become damaged in the washer. Tumble dry low, removing it right afterward to help prevent wrinkling.
Step 4
Iron wrinkled vinyl tablecloths on the coolest setting. Iron the flannel backing, if applicable. If you iron the vinyl side, place a pillowcase in between the iron and tablecloth to prevent scorching. Iron in short, quick motions, lifting up frequently to also prevent scorching.
Step 5
Roll up your tablecloth to store it rather than folding, especially if it is prone to wrinkles. Store it in an area away from high humidity where mold could become an issue.