Things You'll Need
Terry cloth towels

Turtle Wax Super Hard Shell Liquid or other wax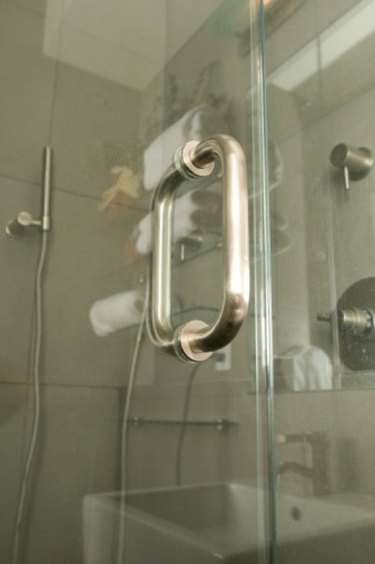 Turtle Wax makes products to wash your car, protect its surface and produce a long-lasting shine. The liquid car wax is also useful in preventing mildew from returning on your shower walls after cleaning them, according to the North Carolina State University website. It is not difficult to apply the wax to the door and other shower surfaces. Once you apply the wax, it allows the water and soap suds to slide off the door surface, keeping it looking shiny and clean for months.
Step 1
Wash the shower door and other shower surfaces thoroughly with your normal cleaner. Allow it to dry.
Step 2
Pour a capful of the liquid car wax onto a clean, terry cloth towel.
Step 3
Rub it onto the shower door in a circular motion. Work in sections that are about 2 feet square until the entire shower door is covered with a thin layer of the Turtle Wax.
Step 4
Allow the wax to dry thoroughly to a crusty finish.
Step 5
Buff the shower door with a clean, terry cloth towel. Rub it off in a circular motion until the wax is gone. The wax treatment allows water to run off the door in a sheeting action, thus preventing water spots, soap scum buildup and mildew.
Tip
For the best results, use the liquid car wax every three months to keep the shower door looking its best.
Warning
Never use the wax on the shower or bathtub floors. It makes the floors slippery and may cause you to fall.