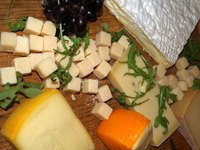 Some of the best deals on gouda require the consumer to purchase large quantities of the cheese. There is often no need to use all of the cheese immediately, but storing gouda cheese can sometimes prove damaging to the cheese. Luckily, storing gouda cheese can be done successfully, with a few precautions.
Things You'll Need
1/2 gallon-size zip-locking plastic bags
Cut the cheese into sections no larger than 1/2 pound using the knife. Make sure the portions are cut into shapes that will fit easily into a zip-top bag.
Place each portion of cheese into a separate bag. With each bag, fold the bag around the cheese to force as much air out of the bag before sealing the bag shut.
Freeze the cheese in increments of 20 minutes. Between each increment of freezing, let the cheese stand for 5 minutes at room temperature. This will help to prevent ice crystals from forming inside the cheese and ruining the texture. Repeat this procedure at least six times before leaving the cheese in the freezer for good.