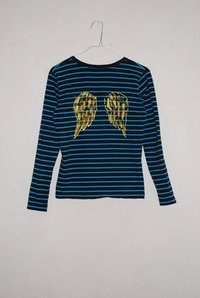 Artwork that has been airbrushed onto a shirt will crack and fade if it is not subjected to a process called heat setting, which permanently bonds the paint to the fabric. Professional shirt painters use large heat press devices, allowing the entire shirt to be pressed at once. These presses cost hundreds of dollars, however, and are beyond most amateurs. You can do your own heat setting at home with a few common household items.
Things You'll Need
Lay the shirt on a flat surface with the airbrushed artwork facing up. Smooth out any wrinkles.
Place a sheet of parchment paper over the artwork.
Set an iron to its highest setting (ideally at least 300 degrees) and let it heat up.
Iron the shirt through the parchment paper for two to three minutes. Keep the iron moving in small circles to avoid scorching the shirt.
Allow the shirt to cool before wearing.