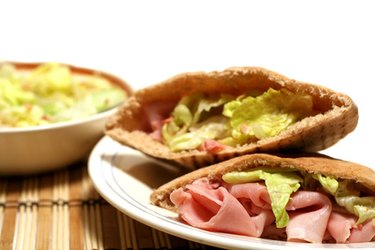 Changing your diet can be a challenge, especially when you have been eating certain types of food your whole life. Convenient and versatile foods, such as lunch meat, come loaded with salt, which is used as a flavoring agent and as a preservative. Furthermore, low sodium lunch meat options may not be available, depending on the lunch meat manufacturer. You can, however, reduce the salt content in your lunch meat on your own, which could help to lower your blood pressure when consumed in conjunction with other healthy foods.
Step 1
Remove lunch meat from the packet and lay slices in the bottom of a sauce pan. Fill the sauce pan with 1/4 inch of cold water. Using cold water, instead of hot water, increases the amount of time the meat spends in water, which reduces the salt content. To reduce salt in a cooked ham, use a sharp meat knife to make thin, lunch meat-style slices.
Step 2
Place the sauce pan on the stove and set the stove on medium-high heat. Bring the lunch meat to a boil and let it boil for approximately 60 seconds. Do not leave your lunch meat to boil for more than one minute, because doing so could compromise the lunch meat's tenderness and flavor.
Step 3
Pour water off the lunch meat and pat it dry with a clean paper towel. Pour the salty water down the drain. Pat your lunch meat dry with a clean paper towel or napkin. Patting the meat dry prevents your sandwiches and salads from becoming soggy.