Painting fur with acrylic paint can be a challenge, but the trick lies in creating layers on your canvas and starting with the darker colors first. This gives the fur a more textured look. With the right tools and the right painting techniques, you can easily create a realistic painting of your favorite animal or pet using acrylic paint. When you have mastered the technique of painting fur with acrylics, you can capture the image of your favorite pet or animal.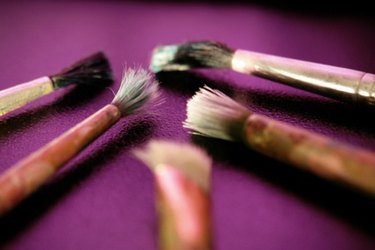 Things You'll Need
Acrylic Paint

Canvas

Two Round Brushes

Small Round Brush
Step 1
Add a small amount of water to the acrylic paint to water it down.
Step 2
Mix the colors you will be using on your palette. Don't over-mix the colors as this could flatten the color.
Step 3
Tone down the brightness of the canvas by covering it completely with burnt sienna. Use the second last dark color on your palette, such as the darker grays or browns, depending on the color of the fur. You will create more specific strands of fur with the lighter colors, so the darker colors will serve as a base.
Step 4
Sketch an outline of the animal to use as a base.
Step 5
Use a new brush to start the background colors until, drawing from your palette of colors, you are ready to start painting the fur.
Step 6
Let each layer of paint dry before beginning the next layer. As you paint each further layer, use a lighter shade of acrylic paint to highlight the specific strands of fur.
Step 7
Don't try to paint each individual strand of fur. Rather, let the fur strands shine through the layers. Use the small round brush to start in a single layer of fur using one of the color mixtures. Don't fill the canvas completely.
Step 8
Use a worn-out brush to create wispy and matted fur. The bristles will stick together as you create a stroke, giving the look of matted, messy fur. Use a newer brush to create more precise strands of fur.