Things You'll Need
2 sheets of light pink construction paper

1 sheet of dark pink construction paper

1 sheet of black construction paper

Pencil

Saucer

Juice glass

Scissors

Hole punch

White glue

Wiggle eyes (optional)

Pink chenille stem (optional)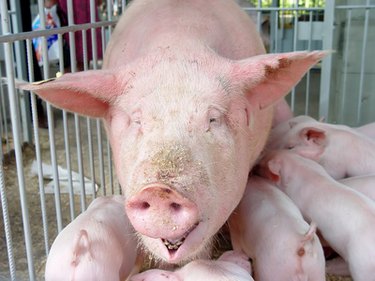 Kids love animals—especially farm animals. When you are teaching your kids about animals, it can be fun to have them create their own animals from paper. Pigs are an especially easy animal to craft with construction paper. A paper pig requires just a few simple shapes, and the activity provides a good lesson on simple shapes and how they work together to create familiar objects. If you are working with especially young children, cut out all of the pieces for the pig ahead of time and allow them to glue the pieces together.
Step 1
Fold one sheet of construction paper and draw half an oval on the fold to represent the pig's body. Cut out the oval from construction paper by cutting along the line you drew. Unfold the paper to reveal a full oval.
Step 2
Trace the saucer on the other sheet of pink construction paper to make the pig's head. Cut out the circle from the paper and adhere it to one end of the oval.
Step 3
Cut out two rectangles from the pink construction paper. These will be the pig's legs. Cut a "V" into one end of the rectangle and adhere the legs to the pig's body.
Step 4
Cut out two identical triangles from the pink construction paper for the pig's ears. Adhere the ears to the top of the pig's head.
Step 5
Trace the outline of the small juice glass on the darker pink construction paper. Cut out the circle and adhere it to the center of the pig's face for a nose.
Step 6
Cut out two smaller rectangles from the black construction paper. Trim a "V" shape into each rectangle and adhere each one to the legs for the pig's feet.
Step 7
Punch out two holes from the black construction paper. Attach the punched holes to the pig's snout, side by side.
Step 8
Cut or punch out two larger circles from the white construction paper for the eyes. Glue these circles to the pig's face above the nose. Punch out two more circles from the black construction paper and adhere these circles to the eyes.
Step 9
Use a scrap of pink construction paper, trimmed into a thin rectangle, for the pig's tail. Curl the paper around the pencil to create a pig's curly tail.
Tip
Instead of making the pig's eyes from construction paper, glue on wiggle eyes to the pig's face. These are available for purchase from any craft or hobby store. Use a pink chenille stem for a tail instead of the paper scrap.