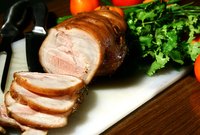 Eye of round roast, one of four cut options for beef roast, is a great selection when slow cooking because the meat is very absorbent and will keep all of the flavors you cook it with. The slow cooking option makes it a simple roast to make because you only need to mix a few ingredients, then let the slow cooker do the rest. The following steps will result in a tender and flavorful roast.
Things You'll Need
One eye of round roast
Can of mushroom soup
Can of beef broth
Package of dry onion soup mix
1 to 2 tbsp. fresh minced garlic
1 tbsp. Worcestershire Sauce
1/4 cup flour
1 tsp. black pepper
1/2 to 1 tsp garlic powder (optional)
3 to 4 tbsp. oil
Mix together the mushroom soup, beef broth, dry onion soup mix, minced garlic and Worcestershire Sauce and transfer the mixture into the slow cooker.
Mix together the flour, black pepper and, if you choose, garlic powder.
Coat the roast with the flour mixture.
Lightly brown all sides of the roast in a skillet over medium heat.
Transfer the roast to the slow cooker and coat it with the liquid mixture.
Cover and cook the roast on the low setting for eight hours.