Things You'll Need
Paper towels

Garlic powder

Sea salt

Pepper

Olive oil

Frying pan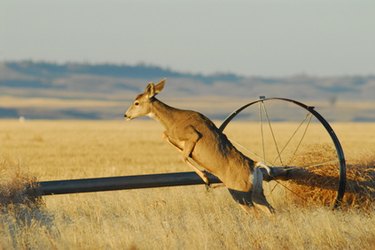 Venison is a term for deer meat, which is high in protein and iron, while being relatively low in fat. Venison round steak is a lean cut of deer meat that is usually boneless. You can cook venison round steaks multiple ways. One of the most flavorful means of cooking this type of steak is to pan fry it.
Step 1
Rinse the steaks and pat them dry with a paper towel.
Step 2
Season the venison with garlic powder, sea salt and black pepper on both sides to taste.
Step 3
Heat 2 to 3 tbsp. of olive oil in a frying pan on medium-high heat.
Step 4
Place the steaks into the pan once the oil is hot and cook them for three to four minutes on each side. Only turn the steaks once to prevent them from drying out.