Things You'll Need
2 yards of patterned fleece fabric

2 yards of solid cotton fabric

Sewing machine

Thread

Fabric scissors

Pins

12 inches of 1-inch wide ribbon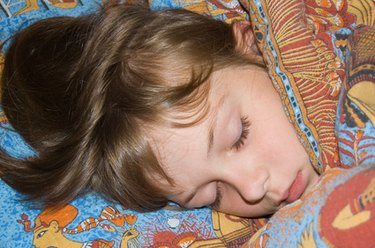 Kindermats are nap mats used in preschool and daycare centers during nap time. They consist of a foam-type material encased in a nylon cover and provide the child with a place to sleep. While the nylon provides a washable exterior; it isn't the most comfortable material to nap on. Creating a cover for a kindermat will provide a child with a softer place to lay his or her head. Covers are available for purchase though various outlets, but making your own may be more special. Allow the little napper to help pick out the fabric, if you are so inclined.
Step 1
Position the fleece on a flat surface and cut a piece 24 inches by 51 inches. Set it aside. Lay out the cotton fabric and cut a piece of the same size: 24 inches by 51 inches. These two pieces will be the cover of the kindermat.
Step 2
Lay the two fabrics on top of each other. The interior side of both fabrics should be facing out. Pin the fabrics together on the longer sides and one of the short ends. Leave one end open; this will be where the mat is inserted into the cover.
Step 3
Sew the pinned sides together on a sewing machine. The stitching should be about 1/2-inch from the edges of the fabric. Make sure to leave one short end open.
Step 4
Turn the cover inside out and push the corners out. This will hide the sewn edges and create a clean look.
Step 5
Cut the 12-inch ribbon in half so you have two 6-inch pieces. Sew one end of the ribbon onto the center of the short side of the fleece. Sew the other 6-inch piece onto the center of the solid fabric. Insert the mat and tie the ribbon. The cover is complete for your little napper.
Tip
Add monogramming to the cover for a personalized touch. Purchase extra fabric to make a matching pillow and blanket.