Things You'll Need
Paper plate

Red, blue and yellow paints

Paint brush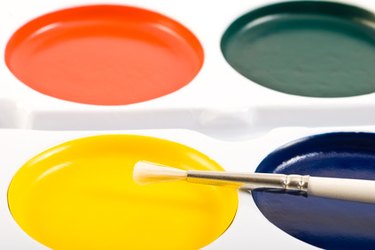 When painting, the best colors can be the ones you create on your own. Though black watercolor paints can be bought in the store, different shades of black can be easily created by mixing the three primary colors of paint. Mixing your own black watercolor paint requires only a few materials you likely already have in your home.
Step 1
Decide what shade of black you want. The shade of black that you want will determine which colors you should choose to mix together. For a soft black, use an aureolin yellow, a rose madder genuine red, and a colbalt blue. For a medium black, use new gamboge yellow, permanent rose, and French ultra marine blue. For a strong and bold black, use winsor yellow, permanent alizarin crimson, and winsor blue.
Step 2
Place a paper plate on a flat surface. You will use this to mix the paint on. You may also use newspaper or any covering that you do not mind being covered in paint.
Step 3
Mix a paintbrush with a little bit of water into each individual red, yellow, and blue color. Add each color to the paper plate, adding more in equal measure. For more black paint, use more of each color in equal part. For less, use less paint.
Step 4
Mix the colors together using the paint brush gently. Mix until the three primary colors are no longer discernible and have become one fluid shade of black.