Things You'll Need
Measuring tape

Blanket fabric

Scissors

Clip-on curtain rings or grommets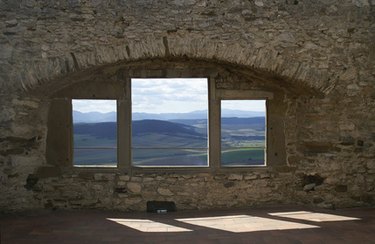 During cold winters, a set of heavy-duty curtains can greatly reduce the amount of heat lost from your windows. Instead of spending a lot on a set of curtains that you're only going to use a few months a year, you could fashion a set from any blankets you have around the house. This project takes just a few simple tools and a short amount of time to complete; when the curtains are done and hung, you should have a noticeably less drafty room. In fact, according to the U.S. Department of Energy, good draperies can reduce heat loss by as much as 10 percent.
Step 1
Measure your window size and determine how much blanket fabric you will need for each window. The general rule of thumb for making curtains is to have 2.5 times the amount of fabric to the width of the window. The length can be just lower than the window, or close to the floor, depending on your preference.
Step 2
Cut the blanket to the size you need and whipstitch any trimmed edges for a finished look to each edge.
Step 3
Attach clip-on curtain rings to the top portion of the curtain, at 1-foot intervals. If you are using a heavy blanket material, you may have to use something besides clip-on rings. As an alternative, cut small holes at 1-foot intervals in the top of the material and slide grommets into the holes.
Step 4
Slide your curtain rings or grommets onto your curtain rod and hang your curtains.