Things You'll Need
Construction paper

Scissors

Tape

Stapler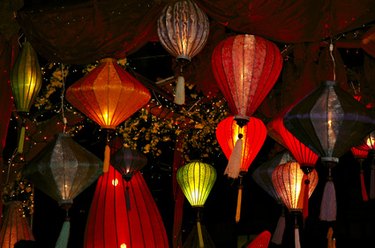 Teach children about Chinese culture by having them create a traditional paper lantern. Use this craft as a hands-on extension activity when teaching children about the cultures of the world. Constructed from construction paper, these paper lanterns are simple to make and can be used as a decoration for a Chinese New Year party. Make a single paper lantern, or make several different-colored lanterns and string them around a room.
Step 1
Fold a sheet of colored construction paper in half vertically, forming a long, thin rectangle.
Step 2
Cut slits in the paper along the folded line. Do not cut all the way to the end of the paper.
Step 3
Open up the paper, then roll the paper until the two ends meet. Tape the edges of the paper together.
Step 4
Cut a long, thin rectangle from construction paper. Staple the edges of the rectangle to either side of the top of the lantern, forming a handle for the lantern.
Tip
If you're working with children, draw lines on the paper to indicate where they should cut.