Things You'll Need
1 yard each of three different cotton fabrics

Scissors

Tape measure

Sewing machine or needle and thread

3 yards quilt batting

3 yards cotton muslin fabric

50 safety pins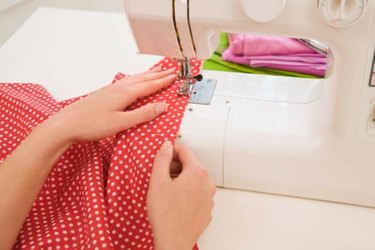 A modern, cozy and attractive bed comforter can be sewn together via a modified patchwork quilt method. The pattern relies on wide strips of fabric sewn together to create any size bed comforter. The comforter can be sewn by hand or with the help of a sewing machine. The final top-stitching that creates a quilted surface is best done with hand sewing. Choose cotton fabrics for this comforter to enable machine washing and drying when the comforter needs cleaning.
Step 1
Cut all cotton fabrics into long strips measuring 12 inches wide and 44 inches long by ripping the fabric. Cut one strip into a 12-inch square with the scissors.
Step 2
Cut one of the contrasting fabric strips to a length of 12 inches and sew it to one side of the 12-inch-square piece of fabric with a straight stitch 1/4 inch from the edge, right sides together.
Step 3
Repeat, sewing a strip of like fabric to the opposite side of the square. Measure the length of the completed work and cut and sew the same fabric to the remaining sides, creating a frame of like fabric around the original square.
Step 4
Sew strips of like fabric around the work, creating a second frame of contrasting fabric. Repeat, until the comforter is the size required for the bed.
Step 5
Cut the quilt batting and cotton muslin backing fabric to the exact size as the comforter top. Layer the backing, batting and comforter top on a flat surface, like a table or the floor.
Step 6
Attach the three layers together with safety pins placed every 5 inches in every direction. Top stitch through all three layers by hand sewing with a needle and thread through the seam lines.
Step 7
Cut the remaining muslin into long 2-inch strips. Hand or machine-sew the strips to the comforter edges, right sides together, 1/4-inch from the edge. Fold the strips 1/2-inch twice, and hand sew them to the back of the completed comforter.
Tip
Leave off two sides of the final fabric frame, creating a rectangle, for a twin-sized bed comforter.