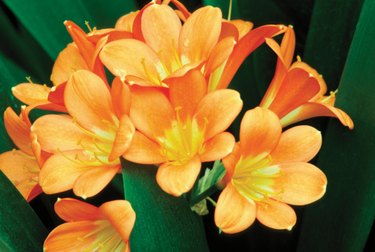 Clivia plants, known as clivia miniata or Kaffir lilies, are evergreen garden shrubs that are often grown indoors due to their small size and low light needs. Clivia plants produce brightly colored orange, red or pink flowers and are prized because of their low-maintenance care needs. Pruning clivia plants is important for keeping them healthy and productive. In addition to regular care, including watering and fertilizing, annual pruning ensures the clivia is able to resist disease.
Step 1
Remove any dead flowers from the clivia plant after the flowers have finished blooming. Dead heading helps create space for new growth and prevents the old flowers from rotting and providing habitat for harmful fungi or insects.
Step 2
Prune the entire plant in the early spring before it produces new flowers or leaf growth to avoid damaging that season's flowers. Prune it after the last frost if it is an outdoor plant. Keep the clivia from exposure to excessive cold if it is a houseplant to prevent damage at the cut areas.
Step 3
Remove any dead, diseased or broken leaves. Cut off the broken portions of the plant at the base of the clivia to prevent them from spreading disease or rotting.
Step 4
Prune the plant during its growing season if it becomes infected or damaged due to insects, fungus or stress. Cut back damaged branches to allow new growth to emerge.