Halloumi is a delicious, semi-hard brined cheese that is traditionally made from a combination of sheep's and goat's milk. This cheese is both mild yet salty, making it the perfect companion to a variety of flavors. However, what really makes this cheese stand out from the rest is the fact that you can pan-sear it, fry it, or grill it, due to its high melting point. This cheese tastes great on salads, sandwiches, or even when paired with some fruits, like in this watermelon and halloumi salad.
Things You'll Need
3 handfuls of arugula, about 2 oz

1 lemon, quartered

Olive oil, plus more for drizzling

Salt, to taste

3–4 slices halloumi cheese, about 1/4-inch thick

6 triangluar slices of watermelon

1–2 sprigs of mint

Large bowl, for serving

Non-stick skillet or grill pan
Tip
This salad can serve 2–3 people.
Step 1
Gather all the ingredients for the salad.
Step 2
Add the arugula to a medium bowl, and toss with a light drizzle of olive oil. Add a squeeze of one lemon wedge, and a pinch of salt, adding more of these ingredient as needed. Set aside.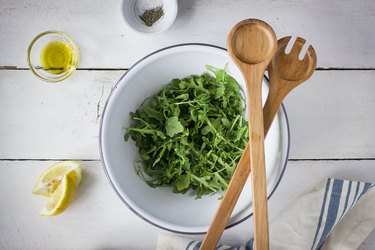 Tip
Don't add a lot of salt at this point. The cheese is quite salty, so adding just a small pinch should be enough.
Step 3
To pan-sear the halloumi, set a small non-stick skillet over medium heat. Once the pan is hot, add the halloumi, and cook until each side is gold brown, and slightly crispy; about two minutes.
Tip
To fry the cheese simply add a bit of oil to the pan, about 2-3 teaspoons. Pat the cheese slices dry, then add to the hot pan. Follow the same cooking times as listed in step one.
Step 4
To grill the halloumi, simply set a lightly oiled grill pan over medium heat. Brush the halloumi with a bit of oil, and add to the grill pan once hot. Cook the cheese until grill marks appear, and the cheese is warmed through; about two minutes on each side.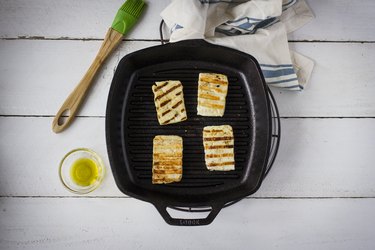 Step 5
Arrange the slices of watermelon and the warm halloumi over the top of the prepared salad, along with a few fresh mint leaves. Squeeze a little extra lemon juice over the cheese and watermelon before serving.