Things You'll Need
Measuring tape

Sewing machine

Sharp scissors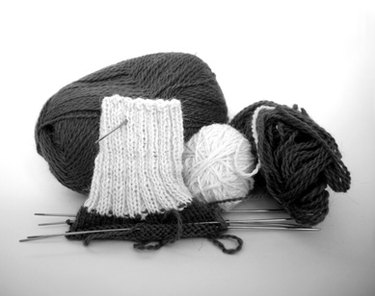 Knitting is an activity that requires a lot of patience and concentration. There are many possibilities of what you can knit, such as toys, clothing and accessories. Knitting Norwegian sweaters, for instance, requires cutting through the knit fabric to attach the arms. This can be an especially daunting task considering the long hours you've put into it. To avoid any unraveling from taking place, there are a few handy techniques to make the process a lot simpler.
Step 1
Place the circular knitting that you've completed so far on a flat surface to measure and mark the area that needs to be cut.
Step 2
Sew two lines with a sewing machine on each side of the marked cutting line. Make sure the lines are roughly 1/2 inch apart. The stitched lines will hold the knitting in place to prevent unraveling.
Step 3
Cut along the marked line in between the two stitched lines.
Step 4
Continue with the project and complete the garment.