Things You'll Need
Clear plastic sheets

Masking tape

Fabric paint

Cotton swabs

Toothpicks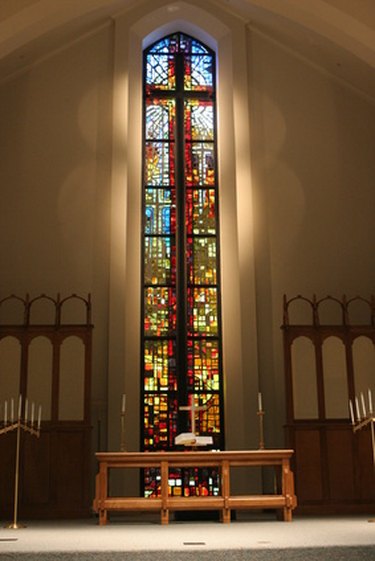 There's something undeniably elegant about stained glass windows. While it's impractical to install them in your own home, you can certainly evoke the feeling they bring by hanging up stained glass window clings. With basic crafting skills, you can make window clings that possess a stained glass design in just a few hours.
Step 1
Draw out the image or design you want to make into a stained glass window cling. You can even use pictures or printouts from a computer. Tape the drawing or image under a clear plastic sheet so the image faces out through the plastic. Tape the plastic sheet down to your workspace.
Step 2
Outline the image with one of your fabric paint colors on the plastic cover. Slowly trace the outline, squeezing the paint bottle to push out the paint. Holding the paint bottle vertically helps with flow and sharper lines. Avoid making air bubbles in the paint as much as possible and fix mistakes with a cotton swab. Allow the outline to fully dry for about two to three hours.
Step 3
Fill in the design using different colors of fabric paint. Make sure to fill in all the areas of the outline with different color paints. Mix together the paint colors that are touching each other using a toothpick. Stir the edges of the two colors quickly until the colors blend seamlessly. Repeat this until the design is completely filled in and blended like stained glass.
Step 4
Allow the paint to dry for about 12 or 14 hours. Avoid disturbing or moving the paint as it dries.
Step 5
Peel and remove the dried paint from your plastic sheet. Attach the paint graphic to a sunny window.