Things You'll Need
Spray paint cans

Stencils

Stencil glue (if desired)

Masking tape

Newspaper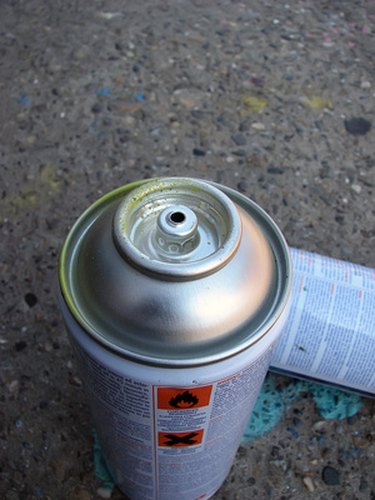 Airbrushing uses an air compressor to drive paint through a small nozzle so that you have a great deal of control over where the paint goes and how thickly you apply it. When you use a spray can, you are essentially using a larger version of an airbrush. Spray cans apply a thicker, heavier application of paint, but you can still achieve some similar effects to an airbrush if you learn how to manipulate the spray can.
Step 1
Protect the floor and areas surrounding the object to be spray painted with newspaper. Use masking tape and newspaper to section off any areas of the object that will be painted a different color.
Step 2
Experiment on a sheet of newspaper with the effects of the spray paint can when holding it at different distances from the object. Holding it far away from the object will give a more dispersed, airbrushed feel.
Step 3
Experiment with the color intensity and effects you can get when layering the color in several coats. Spray a light coat of paint and allow it to dry. Follow with another light coat rather than spraying one area with too much paint or you will get runs and drips. You can also layer colors in this manner. Run a highlight or shading color across the surface with a quick, light spray and repeat it until you get the mix of colors you want.
Step 4
If you are using a stencil, also try holding the stencil at different distances from the object to be painted while you spray the paint. The closer the stencil is to the object to be painted, the sharper the resulting stenciled image will be. Use masking tape or stencil glue to secure the stencil against the object for the sharpest image.