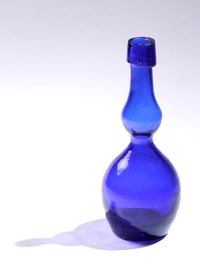 Glass bottles need not be consigned to the recycling bin. Turn your favorite beverage bottles into drinking glasses, votive holders and modern flower vases by cutting them. Glass cutting may seem like professional work, but most adults can cut bottles using a few household items. You'll reduce waste in your home, and have bragging rights when someone complements your décor.
Things You'll Need
Bucket, 5 gallon
Cold water
Leather gloves
30-gauge steel wire, 18-inches long
Free-standing butane lighter
Glass bottle
Fill a 5-gallon bucket with cold water. Do not use ice; the cubes might interfere when you are working with the bottle.
Put on leather gloves. Ignite your butane lighter and set it on a sturdy, heat-proof surface. Wrap 6 inches of each end of your wire around each hand. Hold the wire taught between your hands. This is your bottle cutter.
Pass the wire through the flame for 30 seconds.
Wrap the heated wire around your bottle at the point you intend to cut. Wrap the wire around the entire circumference of the bottle. Make sure the wire overlaps where it meets itself. Hold the wire in place for 10 seconds.
Drop the wire and plunge the bottle into the cold-water bucket. Sharply tap the top of the bottle with one hand. It should split around the wire-heated line and provide a clean cut.