Things You'll Need
1 cup distilled vinegar

Water

Stove

Scrubbing brush or sponge

Soap

Full-strength distilled vinegar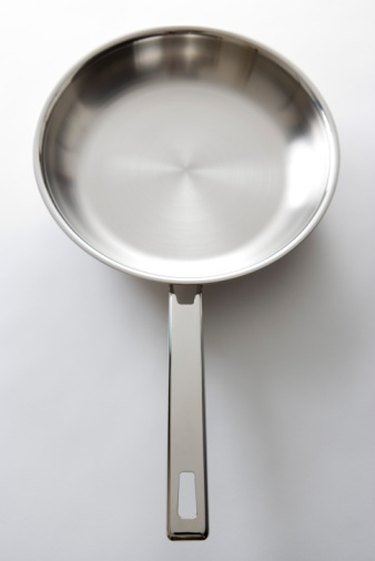 Stainless steel cookware stays true to its name when its surface becomes tainted. Since it is "stain-less" and not "stain-free," you can expect that it will occasionally develop stains. Fortunately, the finish of stainless is not fragile when it comes to cleaning methods. Whether you have a burned-on stain or one that has caused the surface of the cookware to change color over time, you can remove the stains and restore the items to their original shiny finish.
Quick Method
Step 1
Pour 1 cup of distilled vinegar into the cookware item and fill it with warm water until the stained areas are completely covered.
Step 2
Place the cookware on the stove and bring the water and vinegar to a boil. Continue boiling for five minutes. Remove from heat.
Step 3
Pour the vinegar water down the sink and scrub away any loosened debris with a brush or sponge. Wash the pan with soap and water before drying and storing.
Stubborn Stains
Step 1
Fill the stainless steel pot or pan with enough full-strength vinegar to cover the stains. For instance, if the bottom is the only area with staining, pour in the amount of vinegar that it takes to cover that area and no more.
Step 2
Allow the item to sit undisturbed for three days. Pour out the vinegar into the sink.
Step 3
Fill the pot with fresh vinegar to cover the stained area. Let it soak for three more days. Pour out the vinegar and wash the pot with hot, soapy water and a scrubbing sponge to completely remove the staining.
Tip
If the stain is at the top of the cookware, when filling the cookware with vinegar and water, add an additional 1/2 cup to 1 cup of vinegar to make the solution more potent.
If the vinegar offends your sense of smell, relocate the cookware to a porch or patio to soak.