Things You'll Need
Cardboard

Painter's tape

Sandpaper

Paint stripper

Primer

Paint

Paint brush

Glass cleaner

Stencil

Adhesive contact paper

Crafter's blade

Damp cloth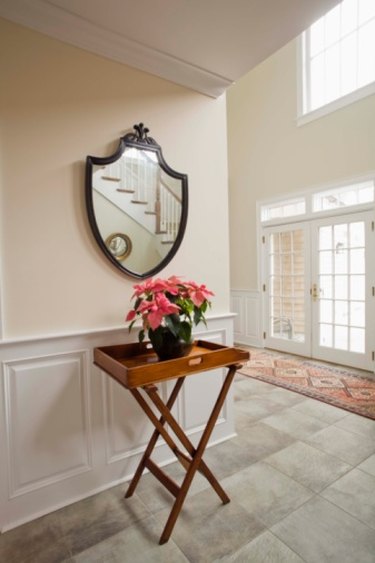 A mirror adds light and the illusion of space to any room, and depending on the size, can make a good focal point. Choosing a mirror can be a challenge, even when the right size and shape mirror is found for a room the frame may not match the room décor. Other times, you may want to add some color and flair to a large, plain mirror by painting directly onto the mirror's surface.
Painting a Mirror Frame
Step 1
Remove the mirror from its frame if possible and place it away from your work area. If you cannot remove the mirror, cover the surface completely with cardboard fastened by painter's tape.
Step 2
Prepare the frame's surface by sanding lightly. If your project is a frame that has been painted and is chipping and cracked, you will need to strip the existing paint so that your new coat will adhere to the surface. Do this with a commercial paint stripper found at any paint supply store.
Step 3
Choose a paint that will work best with the frame's surface. If your frame is wooden, most acrylic and oil paints will work fine. If you are painting a metal surface, you will need to prime it with the correct primer for the metal you are working with. When purchasing primer and paint, check the label of the product to make sure it is compatible with your frame.
Step 4
Paint the frame in even strokes, brushing in the direction of each side. If desired, spray paint can be used.
Step 5
Allow main coat to dry completely. Pencil in your desired design around the frame, or use a stencil. Paint and let dry.
Painting a Mirror's Surface
Step 1
Clean the mirror's surface gently with a commercial glass cleaner, allow to dry thoroughly.
Step 2
Sketch your design on paper if drawing in freehand, or select the stencil of your choice from a craft supply store. You can create your own stencil by sticking adhesive contact paper to the mirror itself and cutting out the desired shapes with a sharp craft blade.
Step 3
Paint directly onto the mirror's surface with acrylic glass paint. Keep a damp cloth to easily remove mistakes.
Step 4
Allow to dry and hang on the wall.
Tip
For more design tips and ideas, read The Complete Guide to Glass Painting: Over 80 Techniques with 25 Original Projects and 400 Motifs by Alan Gear
Any design painted on a mirror can easily be removed at any time by paint remover
Paint markers can also be used for detail work directly on a mirror's surface.