Things You'll Need
Dishpan

Lemon juice

Table salt

Nylon mesh scrubber

Kitchen towels

Ketchup

Dishwashing detergent
Copper bottoms on cookware are attractive and functional. The copper distributes heat evenly, helping to cook your food. Proper maintenance is important in maintaining the condition of copper-bottomed cookware. Black stains build up on the bottom of copper cookware as you use your pot. Regular cleaning and polishing with a combination of household and commercial supplies helps keep your copper-bottomed looking clean as well as helping it last longer.
Step 1
Pour lemon juice into the bottom of a dishpan. Set your copper-bottomed pot in the lemon juice and add more, if needed, to cover the copper portion. Allow the pot to soak in the juice for 15 minutes.
Step 2
Remove your pot from the dishpan and sprinkle table salt over the copper portion. Scrub the salt and lemon juice into the copper surface with a nylon mesh scrubber. Add more lemon juice and salt as needed and continue to remove as much of the black stains from the bottom of the pot as possible.
Step 3
Rinse your pot to remove the lemon juice and salt. Dry the surface with a clean kitchen towel.
Step 4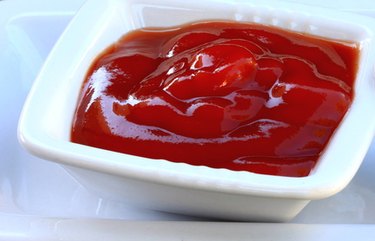 Squirt ketchup onto the bottom of the copper pot. Use your nylon mesh scrubber to spread the ketchup over the entire bottom. Allow the ketchup to sit on the surface for 15 minutes to remove black tarnish.
Step 5
Run warm water over your pot to remove the ketchup. Wash the pot with dishwashing detergent and warm water. Rinse again then dry with a clean kitchen towel.
Tip
Wash stained copper-bottomed pots in ammonia to help remove stains.
Baking soda is a mild abrasive that safely removes cooked-on stains.