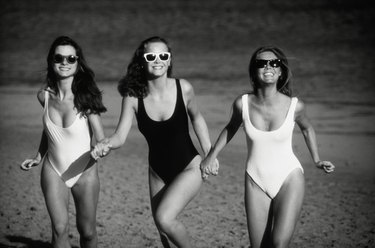 Although swimming is a great way to exercise, the chemicals in the pool cause problems for some people. One common problem is yellow chlorine stains. These stains are even more noticeable on a white bathing suit. But with correct clothing care, you can clean the bathing suit, remove the stains and get it looking like new.
Things You'll Need
Clean cloth

White vinegar

Mild laundry detergent
Step 1
Soak a clean cloth with white vinegar.
Step 2
Dab the vinegar onto the yellow stains on the bathing suit. Saturate the stains completely. Vinegar has ascetic acid that dissolves the stains.
Step 3
Fill a sink with cold water to rinse out the bathing suit.
Step 4
Repeat Steps 1 to 3 if yellow stains are still noticeable.
Step 5
Wash the bathing suit in cold water with mild laundry detergent. Don't use any bleach to wash the garment. Rinse the bathing suit with cold water.
Step 6
Let your white bathing suit air-dry as a clothes dryer is too hot for bathing suit fabrics.
Tip
Rinse your white bathing suit in cold water after taking it off to reduce the chances of yellow chlorine stains.