Things You'll Need
Turkey

Brine bag

2 stock pots

3 qt. chicken stock

3 qt. apple juice

1 1/2 cup salt

2 tbsp. peppercorns

1 tbsp. allspice

Roasting pan

5 sprigs rosemary

5 leaves sage

4 trimmed celery stalks, halved

Probe thermometer

Aluminum foil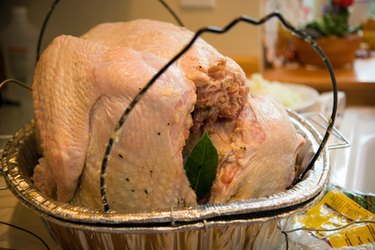 Turkey is a holiday tradition for many American families, but you're not limited to enjoying it only on Thanksgiving. Turkey is high in protein, low in fat, inexpensive and versatile. Roasting is the most practical method of preparing turkey. Brining your turkey before roasting enhances the flavor and moisture of the meat. You should start 2 days prior to roasting when thawing and brining your turkey using this method.
Step 1
Place your turkey inside the brine bag, place it in a large stock pot and fill it with cold water. Move the stock pot to the bottom shelf of your refrigerator. Turn the turkey over after 12 hours for even thawing. Thawing a 19-lb turkey using this method takes about a day.
Step 2
Prepare your brine by combining the chicken stock, apple juice, salt, peppercorns and allspice in a stock pot. Place the stock pot on medium-high heat. Bring the brine to a boil, then remove from heat. Allow the brine to cool to room temperature, then refrigerate.
Step 3
Place your brine bag containing the turkey in the roasting pan, move the turkey so that the breast side is down. Pour brine into the bag until the turkey is covered by an inch of brine. Seal the bag and move the roasting pan to the refrigerator. Brine your turkey for at least 8 hours before roasting.
Step 4
Preheat your oven to 500 degrees. Remove your turkey from the brine bag and rinse it with cold water. Place your turkey in the roasting pan, dry it with paper towels, then rub oil onto the skin. Put your rosemary, thyme and celery inside the turkey's cavity.
Step 5
Move your turkey to the bottom rack of the oven and push the thermometer probe into the thickest part of the breast. Roast the turkey for 30 minutes at 500 degrees, then reduce the heat to 350 degrees.
Step 6
Remove your turkey from the oven once the temperature reaches 160 degrees, about 4 hours for a 19-lb turkey. Remove the thermometer probe, cover the turkey loosely with foil and allow to rest 30 minutes before carving.
Warning
Always wash your hands with hot water and soap after handling raw turkey. Always keep turkey under 40 degrees while thawing.