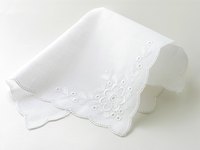 Keep your memories close to your heart by printing family photos onto a handkerchief. Modern technology allows crafters to print images onto special heat-sensitive transfer paper. This includes images ranging from stock clip art to keepsake photos of a special vacation or event. The transfer paper makes it possible to print photos directly onto a variety of fabric items, including t-shirts, blankets and handkerchiefs. What was once the realm of professional printers and clothing manufacturers is now available to the public.
Things You'll Need
Computer
Image-editing software
Printer
Iron-on transfer paper
Iron
Ironing board
Washer
Dryer
Open your photo in a computer image-editing software program. Resize the photo to fit within the space of the handkerchief, anywhere between 10 to 16 inches square.
Fill your printer with iron on photo transfer paper. If you have a light-colored hanky, use photo transfer paper designed for use on light or white colored fabric. Darkly colored or black hankies require photo transfer paper designed for darker colored fabrics.
Print the resized photo onto the photo transfer paper.
Position your handkerchief on an ironing board or flat, heat-resistant surface. Smooth out any wrinkles and make sure the handkerchief lays flat and even.
Place the photo transfer paper print-side down on top of your handkerchief. Center the design on the handkerchief.
Set your iron to the temperature and setting recommended by the manufacturer of the photo transfer paper.
Iron the transfer paper in the method specified by the manufacturer of the photo transfer paper. Iron for a duration specified by the manufacturer. Ironing transfers the image from the paper to the handkerchief.
Allow your handkerchief to cool down.
Wash and dry your handkerchief as per the manufacturer's instructions before wearing.