Things You'll Need
Water-based degreasing cleanser

Steel wool

Water hose

Rags

Professional painter's tape

Drop cloths

Galvanized metal etching primer

2- to 4-inch nylon paintbrush

Acrylic latex paint

Satin or semi-gloss latex paint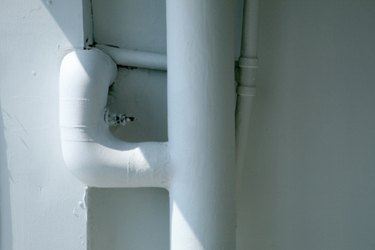 Many homeowners consider bare water pipes to be an eyesore that stand out from the rest of their home. Help your pipes blend in better by finishing them with paint. Before you apply the new finish, treat the pipes with a special acidic primer, equipped with the ability to etch durable metal. Take the time to thoroughly clean the pipes, or you will have significant adhesion difficulties. Apply a specific paint based on the pipe's location, or the finish might eventually fail.
Step 1
Wash the water pipes with a degreasing cleanser, using steel wool. Rinse the pipes, using a water hose or wet rags. Allow at least 2 to 3 hours of drying time. Never paint unwashed water pipes, or you will have significant difficulties with primer adhesion.
Step 2
Cover areas next to and below the pipes with painter's tape and heavy-duty drop cloths. Take your time and work meticulously to prevent unnecessary paint overlap and drips.
Step 3
Coat the water pipes with a metal etching primer, using a nylon paintbrush. Apply a light coat, being careful to smooth drips and runs as you notice them. Allow the pipes to dry for 3 hours.
Step 4
Use tap water to wash the metal etching primer form the nylon brush.
Step 5
Paint the water pipes just as you primed them. Apply an acrylic latex paint to exterior pipes. Apply a satin or semi-gloss latex paint to interior water pipes.
Warning
Don't paint unprimed water pipes, or they will reject their new finish.
Don't use latex primer on water pipes, or flaking will result.