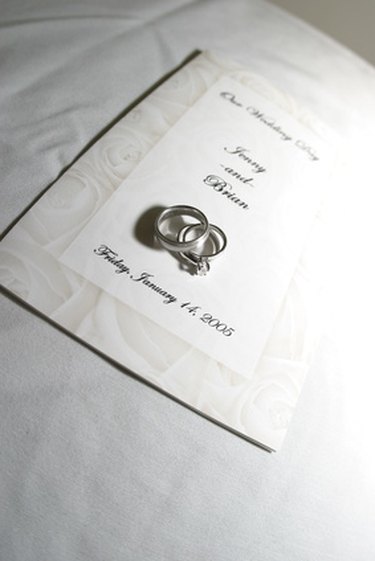 Making your own wedding program is not only economical, it is easy to do in Microsoft Word. Microsoft Word gives you two templates to make a multi-page wedding program, one for the 2003 version of Word and one for the 2007 version of Word.
Step 1
Select and download a multi-page template from the Microsoft.com website. From the search box, type in "Wedding Program Template." You have the option to click on the thumbnail image to see a larger image. You also have the option to go back to see more images until you are satisfied. Once you make your selection you will be asked to agree to the terms.
Step 2
Name and save the template onto your computer. Your new multi-page wedding program template will open for you in Word.
Step 3
Type your chosen text in the text boxes provided. You are replacing the text that is there as an example.
Step 4
Format text as you see fit.
Step 5
Preview your wedding program to make sure it looks and lines up exactly the way you want it. Print a sample and make any changes.
Step 6
Print a hard copy to take to a printer.
Tip
To save more money, you could print the wedding programs on your home printer.