Things You'll Need
Invitations

Food

Beverages

Decorations

Entertainment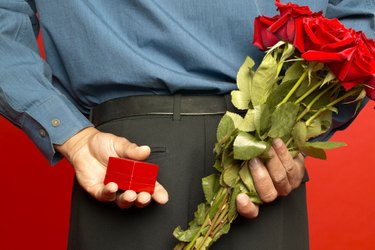 A 30th wedding anniversary marks a milestone that couples often celebrate with friends and family. When celebrating the event, you will want to incorporate the traditional items associated with the 30th year. Green is the color chosen to represent the 30th anniversary, and pearls and gemstones are commonly associated with this year. The event needs to be planned well to ensure that everything goes smoothly and the host can enjoy the celebration.
Step 1
Select a date and time for the party. The weekend typically works best for guests so that they can make plans to attend. Scheduling the anniversary around the holidays may not work well for guests because they might have previous engagements.
Step 2
Choose a location for the anniversary. Locations that are meaningful to the couple will work well, or you can select a restaurant, home, park or country club. Call and make reservations at least a month in advance to ensure that the venue staff has sufficient time to prepare for the celebration.
Step 3
Mail the invitations to the guests at least four to six weeks in advance. Include the RSVP information and the theme of the event so that the guests will dress appropriately. You may also include directions to the party and additional contact information. Green invitations will work well because this is the anniversary color for the 30th year.
Step 4
Select a theme for the anniversary so that you can decorate accordingly. A beach theme may work well for an informal celebration, whereas an elegant theme may incorporate the colors green and white.
Step 5
Plan the food and beverages for the event. If you want to have it catered, then you will need to call in advance to ensure that the company can have everything prepared. You can also set up a buffet, or host a cook-out where the guests can bring covered dishes. Ensure that you provide non-alcoholic drinks such as water and juice in addition to alcohol.
Step 6
Purchase or make the decorations for the party. If you are hosting the anniversary party at a restaurant, then you may be limited in your decoration choices. You can select table centerpieces, banners, balloons and streamers as part of your décor. Wrap pearls around silverware, or fill clear vases with green gem stones.
Step 7
Provide entertainment for the party. Play the couple's favorite music or hire a band, play games where prizes such as green plants are offered, or hire a disc jockey to ensure that the guests enjoy themselves.