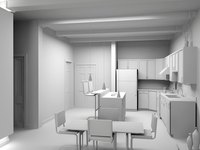 Fluorescent lights can be set in ceiling fixtures to illuminate a room. These fixtures are typically covered with a plastic or acrylic diffuser that spreads the light into the room evenly. Over time the diffusers become brittle or yellow and need replacing to get the best light possible. Sometimes when the panels are taken down for cleaning, they break. It's relatively easy to make replacements for them. You can also use acrylic paint to decorate the panels, creating unique designs for the lights.
Things You'll Need
Tape measure
Saw (optional)
Ladder (optional)
Washable markers (optional)
Acrylic paints (optional)
Brushes (optional)
Plain Panels
Remove the existing panel. Measure it and write the dimensions down on paper, including the thickness of the cover.
Look for replacement material at a home improvement store or hardware store. If you do not have access to a sharp, fast saw, ask the store personnel to cut the panel to fit the dimensions of the old panel.
Use the ladder to install the new panel. Most panels do not fit tightly inside the frames so that cooler air can enter the fixture and the panel slips inside the holder easily. Some fluorescent lights automatically turn off when they get too hot.
Decorative Panels
Measure the existing panels using the tape measure and record the dimensions.
Buy clear acrylic sheets and cut them to the dimensions required for your fixtures. Do not buy textured acrylic sheets for this project.
Create your design using stencils or sketch a design on paper for the panels. Use washable markers to outline your design. Paint the inside of the light panel instead of the outside.
Select acrylic paints in the colors of your choice and use brushes or sponges to apply the paint to create your design. Acrylic paints dry quickly and stand up to the heat that the fixture generates. The paints tolerate temperatures up to 140 degrees. The paint also adheres to the acrylic material used to make the diffusers.
Use a damp sponge or rag to remove the washable marker outlines if you used them once the paint is thoroughly dry.
Install the panel, using a ladder if necessary.