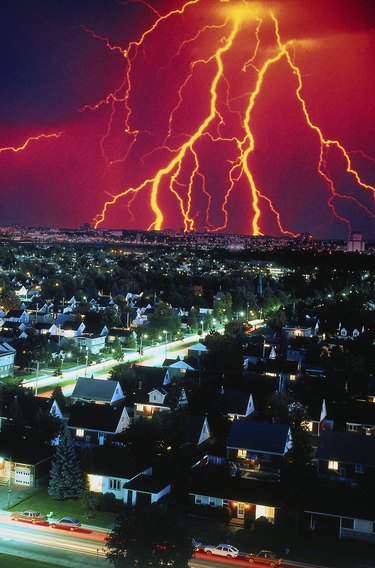 Coleman designs its Powermate generators to help users effortlessly conserve fuel when the unit is idle. Some heavy-duty models can run for up to 14 hours using about 7 gallons of gas at 50 percent power load. Using the idle-control feature, you can extend the life of the unit. The Powermate generator can automatically reduce engine speed to about 2200 rotations per minute, or a "No Load" state. If your Powermate generator is failing to idle as designed, there are at least four basic troubleshooting steps that you can perform before possibly needing to call for service. -- (see References #3, "The 7 gallon metal tank....")
Step 1
Check to make sure the idle control switch is set to "On" if the unit will not idle. This switch is located on the control panel area of the generator. Idle control is an optional feature that must be manually activated before it can automatically control the load of the Powermate generator.
Step 2
Unplug the electrical device or appliance that is plugged into the generator. The Powermate generator could be sensing the load from the appliance that is plugged into the receptacle.
Step 3
Examine the power cords that are connected and extending from the electrical devices and appliances. Make sure the cords are securely and completely plugged into the outlets on the generator. Carefully check for damaged or frayed cords on appliances that are causing a poor power connection. Avoid using appliances that have faulty power cords until those parts are repaired.
Step 4
Flip the idle control switch to "Off" if the Powermate generator is idling, even when the load is plugged in. The problem may be that the load is not heavy enough to adequately take advantage of the idle control feature. Alternatively, try to increase the load to where idle control can function within specified ranges built into the generator.
Tip
Navigate to the Coleman Powermate: Portable Generator Product Manuals website to find instructions about idle control troubleshooting specific to your product's model number, such as "PM0605000" or "PM0606500". The model number may be found labeled in the control panel area. Look around the entire frame of the generator.
Additional Powermate troubleshooting measures include replacing a bad idle-control module, resetting the solenoid or magnetic position and adjusting the carburetor. Coleman recommends that Powermate owners consult a local dealer for these more advanced and complicated fixes.
The Technical Service phone number for Coleman Powermate Generators is 800-445-1805.