Things You'll Need
Drop cloths

Household cleaner

Sponges

Painter's tape

150-grit sandpaper

Tack cloth

Primer

Acrylic paint

Paintbrushes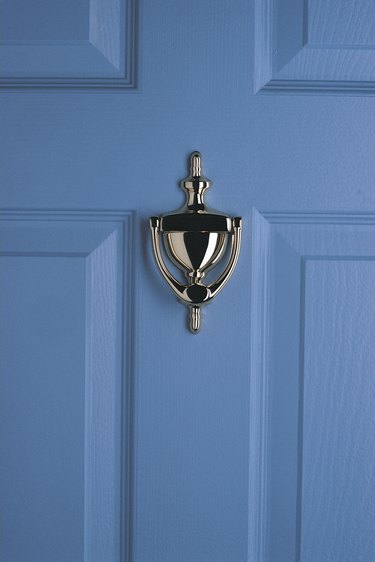 High-quality fiberglass doors offer the beauty of natural wood without any of its problems, such as cracking, rotting or warping. Available in a wide range of styles, paints and stains, fiberglass can be repainted or stained by do-it-yourselfers in a method similar to painting natural wood. Good surface preparation is the key to any successful paint job, and this applies to fiberglass doors.
Step 1
Put down drop cloths to protect the flooring. Remove the weather stripping from around the door if possible.
Step 2
Clean the door thoroughly with a household cleaner to remove all dirt, oils and debris.
Step 3
Mask off glass inserts and hardware with blue painter's tape to protect them from paint.
Step 4
Sand the fiberglass door lightly with 150-grit sandpaper to roughen the surface. Sanding helps the primer and paint form a stronger bond with the door. Wipe away particles with a tack cloth.
Step 5
Coat the fiberglass door with a high-quality primer. Primer prevents the previously applied stain from showing through the paint. Start with the panels first. Allow the primer to dry for the time recommended by the manufacturer. Drying time is usually a minimum of 2 hours.
Step 6
Paint the door in the same manner as you applied the primer. Avoid overloading the paint brush, but maintain a wet edge as you paint. Maintaining a wet edge results in a smoother paint finish.
Step 7
Allow the paint to thoroughly dry for at least 2 hours, then apply a second coat.
Tip
If possible, place the door on a flat surface before painting. For best results, paint the door in moderate temperatures on a day with low humidity.