Things You'll Need
Measuring tape

Hand saw

Foam insulation adhesive

Bricks (optional)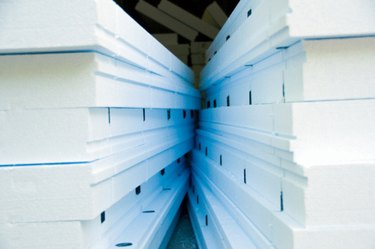 Lower your heating bills and keep your home warmer by using foam insulation in attics, basement rec rooms and between new walls on renovation projects. Sticking foam insulation to wood requires a special heavy-duty glue that sets the adhesive strongly. This glue adheres to all types of wood, from plywood to wood fiber. Choose either beadboard, rigid polyurethane or polyiso foam insulation (beadboard is less expensive). This project can be completed in a day by most do-it-yourselfers and requires no special equipment.
Step 1
Measure the wood before you begin. Cut pieces of foam insulation to those exact dimensions.
Step 2
Wipe down the wood surface with a clean rag. Remove all dust from the surface. Dirt, debris, water and grease can prevent the adhesive from sticking.
Step 3
Coat the wood with foam insulation adhesive, then press the insulation lightly against the wood. Do not compress it, though. Wait until the adhesive begins to bond with the insulation before pressing it firmly. If the temperature is between 40 and 60 F, this takes 6 to 10 minutes. In 60- to 80-degree weather bonding takes 3 to 6 minutes.
Step 4
Wait until the initial bond sets, them press the foam insulation firmly against the wood.
Step 5
Repeat this process with all the foam panels to finish installing your insulation.
Step 6
Wait at least 20 minutes for the adhesive to dry fully.
Tip
If the insulation won't lay flat over an area, weight it down with bricks.
Warning
Don't use any old adhesive; get the foam adhesive for this project. According to Polyurethane.org, foam adhesives expand to fill any gaps between the insulation and the wood.