Things You'll Need
School glue

Bowl

Paintbrush

Straw whisk broom

Wax paper

Ground cinnamon

Cinnamon essential oil

Plastic bag

Decorative bow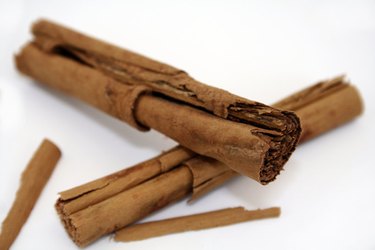 A cinnamon broom is a decorative piece that adds a pleasant fragrance to your home. These fragrant decorations are popular around the holidays and can be purchased at craft and grocery stores. Homemade cinnamon brooms are simple to make. Aside from using them to decorate your door or wall and add cinnamon scent to your home, you can also give homemade cinnamon brooms as a holiday gift.
Step 1
Pour school glue into a bowl so it's easier to apply to your paintbrush. Dip the paintbrush in the glue and brush a thick layer over one side of the straw whisk broom. Lay the whisk broom on a piece of wax paper.
Step 2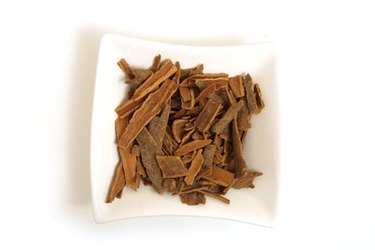 Sprinkle ground cinnamon over the glue-covered broom and allow the glue to dry overnight. Repeat on the other side of the whisk broom.
Step 3
Place a few drops of cinnamon essential oil on each side of the cinnamon-coated broom. Aim the drops into the broom at one of the side edges that isn't covered with glue, so that the oil can penetrate the bristles.
Step 4
Seal the broom in a plastic bag and allow it to sit for one to two weeks.
Step 5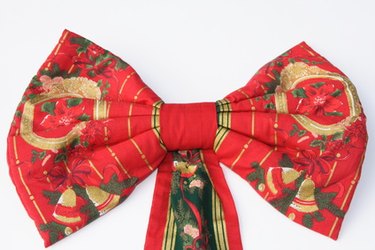 Remove the cinnamon broom from the plastic bag and secure a decorative holiday bow or colorful ribbon around the handle of the broom.
Tip
When the scent on your cinnamon broom fades, add a few more drops of cinnamon essential oil to revitalize the fragrance.
Sprinkle red glitter over the broom for a sparkly, holiday touch.
Straw brooms or brooms made of other natural fibers work best as the glue adheres to them better than to a broom with plastic bristles.
Choose rustic or old-fashioned looking straw brooms for a festive look.