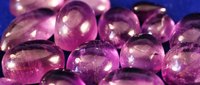 Carving gemstones with the Dremel engraver tool is an easy way to create your own unique jewelry. It is a fun craft project that anyone can do. The Dremel engraver tool is inexpensive and easy to use, and the results are amazing. As long as you choose gemstones with large enough surfaces to carve, you can carve designs of any kind, from simple to elaborate, in just minutes.
Things You'll Need
Fine tip marker
Towel
Dremel engraver tool
Rubbing alcohol
Cotton ball
Lay a folded towel on a sturdy table. Place your gemstones on it to keep them in place while carving.
Draw a design onto your gemstone with a fine tip marker.
Hold the Dremel engraver firmly on the rubber grip near the tip, push the on switch, and choose a speed that you are comfortable with. The higher the speed, the deeper it will carve.
Carve your design into the gemstone by dragging the tip, drawing over the marker design, without stopping for too long in any one spot.
Wipe dust off of the gemstone with a towel.
Dab rubbing alcohol on a cotton ball and wipe off any leftover marker ink.