Things You'll Need
Large stockpot

1 packet (at least) powder all-purpose acid dye

Small bowl

2 cups hot water

Stainless steel spoon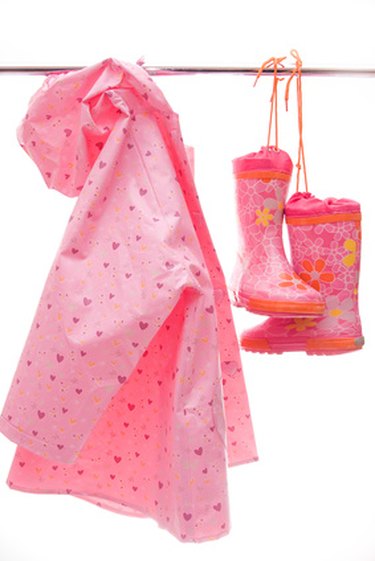 GORE-TEX is waterproof, yet breathable, fabric that was invented in 1978. GORE-TEX is used in many men's, women's and children's outerwear, footwear, gloves and accessories. There are several popular outerwear companies that use GORE-TEX, like Burton, Arc'teryx and Mammut. Although it will be incredibly difficult to dye dark colored GORE-TEX clothing a lighter color, you can dye a light colored GORE-TEX clothing a darker color using an all-purpose acid dye. The trick to dyeing waterproof material is to dye it in near boiling water. The hot water allows the material to absorb the color better than simply warm water.
Step 1
Fill the large stockpot with enough water so that the clothing you want to dye can move around freely. Place the pot on your stove's burner, and turn the heat up to med-high. You will want the water to be hot, but not boiling. If you notice the water to start boiling, turn the heat down to medium.
Step 2
Pour one packet of powder all-purpose dye into a small bowl. Add 2 cups of hot water to the bowl to dissolve the dye. This formula is good for GORE-TEX gloves, accessories, or clothing up to 1 pound. For jackets, coats or clothing over 1 pound, double the formula (two packets of dye and 4 cups of hot water).
Step 3
Add the dissolved dye to the stockpot.
Step 4
Soak the GORE-TEX material in warm water before placing it into the stockpot. This will ensure the fabric will be dyed evenly without streaks or blotches.
Step 5
Place the GORE-TEX fabric into the stockpot. Stir the fabric constantly with stainless steel spoon for the first 15 minutes. Continue to stir the fabric occasionally for the next 45 minutes.
Step 6
Allow the fabric to soak in the dye for at least one hour, or until the desired color is reached.
Step 7
Remove the fabric from the stockpot, and rinse it under warm water. Once the water runs clear, rinse the fabric under cold water to set in the color. Air dry the fabric.