Things You'll Need
Fabric (cotton, linen, waffle weave or terry cloth)

Measuring tape

Scissors

Iron

Pins

Sewing machine

Thread

3-inch-wide strip cotton fabric

Rickrack trim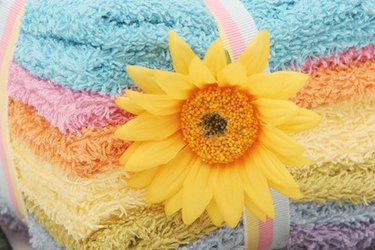 Making your own towels is a practical way to save money when decorating a bathroom or kitchen. Instead of hunting down towels to match a room's design style, you choose the base fabric. You can then add decorative embellishments -- such as coordinating fabric and trims -- to complement the room. While terry cloth is common for towels, other fabrics such as linen, flour sack or waffle weave also work well in creating hand and kitchen towels.
Making the Towel
Step 1
Decide the width and length of the towel you want to make. Add 1 inch to the width and length and cut the fabric to those measurements.
Step 2
Fold a 1/4-inch hem down the two long edges and iron in place. Fold the fabric over 1/4 inch more to create a double-folded hem. Iron the hem and pin in place every 2 to 3 inches.
Step 3
Sew along the hems, removing pins as you go. Use a backstitch at either end to keep the thread from unraveling.
Step 4
Fold a 1/4-inch double-folded hem across the top and bottom of the towel. Iron and pin it place as you did for the long sides.
Step 5
Sew the hems across the top and bottom of the towel as done for the sides.
Decorating the Towel
Step 1
Lay the towel flat. Cut a 3-inch-wide strip of contrasting fabric that is as long as the towel is wide, plus 1/2 inch of excess.
Step 2
Fold and iron a 1/4-inch hem on each short end of the strip, and pin the strip across the width of the towel about a third of the way up from the bottom edge. The strip's edges should be flush with the towel's edges. If they are not, trim the strip and resew the hem.
Step 3
Lay rickrack trim across the top and bottom edges of the strip and pin in place every 1 to 2 inches. The rickrack should completely cover the strip's raw edges.
Step 4
Sew along the middle of the rickrack, securing it and the fabric strip to the towel. Make sure you catch the fabric under the rickrack. Use a backstitch at either end of the stitching to prevent unraveling.
Tip
When using cotton fabric for the towel, use fabric that is soft, absorbent and has a woven pattern. Printed-pattern fabrics look plain on the backside.
Instead of adding a decorative fabric strip, embroider a pretty motif on the towel.
If you can't find suitable fabric, use plain flour sack towels or plain towels. Add the decorative strips or embroidery to personalize them.