You can put together a martini gift basket to give as a 21st birthday gift or on any occasion for someone who enjoys martinis. The gift basket should include all of the ingredients and supplies needed to make a martini plus some special flavorings and accessories that fit the personality and tastes of the recipient. With an eye for detail, you can put together a martini gift basket that looks like it was made by a professional.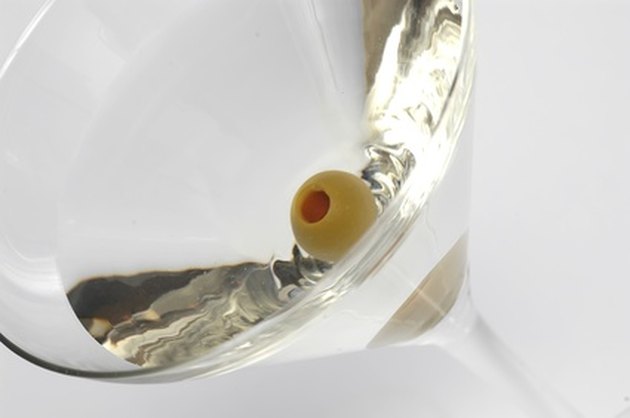 Things You'll Need
Basket

Raffia

Vodka

Gin

Dry vermouth

Sweet vermouth

Olives

Martini shaker

Drink skewers

Lime juice

Cranberry juice

Martini glass

Lemons

Cellophane

Ribbon

Hair dryer
Step 1
Spread a layer of raffia or other attractive packaging material on the bottom and up the sides of the gift basket.
Step 2
Place the bottles of vodka, gin, dry vermouth and sweet vermouth in the gift basket, leaning against the back edge. The tallest bottles should be in the center for visual balance. If you know the recipient strongly prefers either vodka or gin martinis, get one or two bottles of that type of liquor instead of one of each. Place a thin layer of raffia between the bottles to keep them separated.
Step 3
Place a thin layer of raffia between the bottles to keep them separated. Also spread a pad of raffia over the bottom three inches of all of the bottles to separate them from the next items you will put in the basket.
Step 4
Arrange a jar of olives, martini shaker and at least one type of drink skewer or swizzle stick in the gift basket.
Step 5
Add additional flavorings to make a Cosmopolitan, such as cranberry juice and lime juice, in the basket as well.
Step 6
Set a martini glass in the front of the gift basket so it will be the first thing the recipient sees. The glass can either be standing up or lying on its side, depending on the size and shape of your gift basket.
Step 7
Place a few whole lemons in spaces in the basket. Their bright color makes the basket look more exciting, and the recipient can use them to garnish martinis.
Step 8
Set the gift basket in the center of a piece of cellophane that is large enough to pull up and around the gift basket.
Step 9
Grab each of the corners of the cellophane and hold them together above the basket. Gather the cellophane together in one hand and tie it in place with a piece of ribbon.
Step 10
Heat the cellophane with a hair dryer on a low setting to tighten it around the gift basket. Start at the bottom of the basket and work your way up to where you tied the cellophane.