Things You'll Need
Non-perishable food

Bottled water

Battery operated radio

Blankets

Flashlights

Batteries

First aid kit

Glow sticks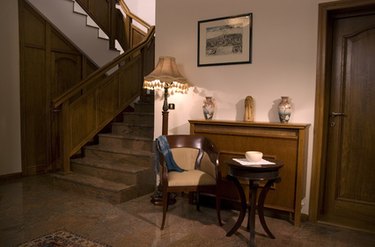 When dangerous weather rolls into your area it is very important to know how to protect yourself and your loved ones from harm. A little forethought goes a long way when disaster strikes; proper planning keeps your family and pets as safe and comfortable as possible during a weather emergency.
Step 1
Prepare for the worst by clearing away all the clutter underneath and surrounding your basement stairs to allow for quick access. The stairs leading into your home's basement are the ideal area to hunker down in the case of an impending tornado. Try to keep this area as clean as possible. Be aware of any windows in your basement. If there is one by the staircase, consider having it filled in to ensure maximum safety from flying objects. Stairways can protect you from falling debris, and are structurally sound.
Step 2
Assemble an emergency kit that will be kept in the basement. The most important items to have are at least three days worth of nonperishable food and bottled water. Be sure to have at least three gallons of water per person, even more if you have pets. Pack a battery operated radio, blankets, several flashlights, and extra batteries. Assemble a first aid kit, being sure to include necessary medications. Think about entertainment. A deck of cards or storybooks can amuse the family in case you are stuck in your shelter for any length of time. Make a list of what your family would need in case of an emergency. Consider extra items if you have pets, small children, or a family member that has a sensitive allergy or requires prescription medication. For a full preparedness checklist of supplies contact FEMA.
Step 3
Act quickly when your area has been issued a tornado warning. First off, remain calm. Gather all family members and head straight to your shelter. If you have pets it is very important to keep them either on a leash or in a carrier. Once everyone is safe under the stairs, use your battery powered radio to listen to current weather statements. A powerful storm can last anywhere from minutes to hours, and the conditions conducive to tornadoes can occur at any point during the storm. Do not leave your shelter until local weather authorities say the danger has passed.
Tip
Hold tornado drills with your family, to ensure that everything will run smoothly during a real weather crisis.
Check on your supply kit every six months to make sure it is in order. Check expiration dates on your food and medications, and check for bug infestation or mouse droppings. Replace what is needed.