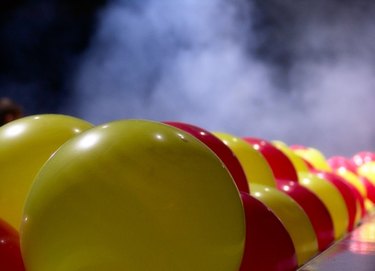 A smoke machine or manual fog machine can add an element of mystery and spookiness to an appropriate event, such as a Halloween get-together, haunted house or even a high school dance. It's a fun accessory for DJs, bands and other musical acts to carry for their performances, and they are also used by emcees, venues and more.
Many people rent them just for these types of events, and therein lies a problem: Rented pieces of equipment don't always come with the fog machine instructions, and you may not have time to read the whole manual. Essential instructions for how to use the Heshan Lide FM 400 smoke machine may elude you, as may some basic troubleshooting steps if the machine isn't working correctly.
How To Use a Fog Machine Without a Remote
The best piece of advice when it comes to using an FM 400 fog machine is to refer to the user's manual if you have it. If you don't have it, you should start by checking the essential parts to make sure they are clean. In particular, you may want to spray the nozzle with warm water to clear out any blockages. Establish a flat, stable surface on which to run the machine. It should be safe from traffic to prevent it from being bumped or knocked over.
Then, place the machine horizontally with the sprayer aimed wherever you want the fog. Locate the cap in the liquid container and remove it. Then, fill the tank with fog machine fluid that is compatible with the FM 400 (you may wish to use MBT FMJ4 fog fluid). Plug the machine into a power source, ideally by connecting it directly into the wall rather than using an extension cord. If you must use one, make sure it is a heavy-duty industrial cord and tape it down to prevent people from tripping over it or accidentally unplugging the fogger.
Power on the machine. It should warm up in about five minutes. Once it does, it should begin producing smoke.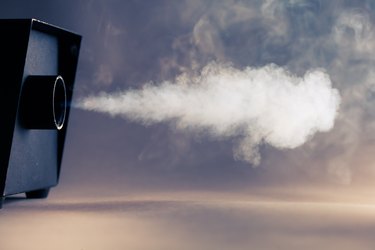 Fog machines are moderately complex pieces of equipment, but there are some common issues that can be easily troubleshot, especially if you don't have the FM 400 fog machine user manual.
One important thing to note is that it is normal for the fog machine to pause periodically. It does this while it heats back up. The machine generally cycles through warm and cool cycles. Especially if you're running it for long intervals, don't fret if you see a pause in smoke production. Instead, wait a few minutes before attempting to intervene.
If you will be running the machine for a prolonged period during an event, make sure you keep an eye on the fog fluid. Do not run the machine without enough fluid because doing so can cause severe damage to the device. In addition, it's very important that you not dilute the fluid with water or any other liquid.
Additional Troubleshooting Steps
There are other issues you may encounter with the fog machine. If the fogger seems to be slowing down while it runs, turn it off for a few minutes and allow it to cool down. Then, unplug the machine before doing anything. Check to make sure that a blockage has not developed in the nozzle or other parts. Sometimes, debris from the air mixes with the fog liquid and causes issues like these.
If all else fails and you cannot get the machine working again, it is not recommended that you fix it yourself. While the fogger lends a particular atmosphere to an event, no doubt your fellow party-goers will continue with their merriment unabated with or without the use of such a cool and spooky effect.
If your machine was purchased new or if it is a rental, be sure to document the mishap so you can get your money back. Contact the manufacturer for help if the item is new or the store from which you rented it if it's a loaner.