Things You'll Need
Shovel

Organic matter (compost, manure or other agent)

Water hose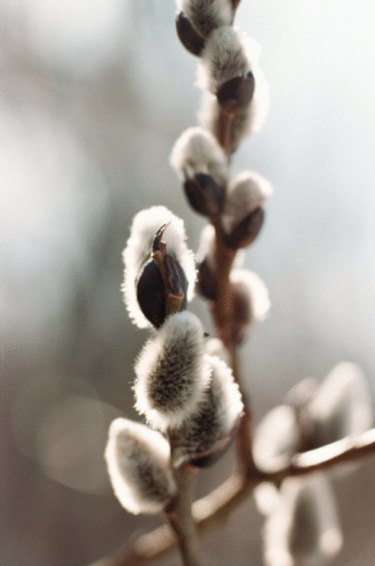 An old Polish legend tells of a mama cat, crying at a river bank many, many springs ago. Her kittens, playfully chasing butterflies, had fallen in the river and were drowning. Weeping desperately, her cries soon caught the attention of the willow trees gathered at the river's edge. The willows draped their long, graceful branches into the water and the kittens were able to grip the willows and make it safely to shore. Ever since, legend says, the willows sprout tiny, furry buds where the helpless kittens once clung for life.
Step 1
Dig around the pussy willow you wish to transplant. Make a very wide circle around the plant, then begin digging down deeply. The exact depth required depends on the plant; the larger the plant, the deeper the root system nestles in the ground. Keep an eye out, as you dig, to avoid severing roots and instead dig wider or deeper as needed.
Step 2
Lever the pussy willow, still encased in the clump of soil and roots, out of the hole you dig. Be careful to avoid tearing any roots in the process.
Step 3
Excavate a hole somewhat larger than the hole the pussy willow came out of. Make sure it is in a location that receives plenty of sunlight and far away from sewer, water and septic lines. Pussy willow roots can prove invasive and cause damage to underground items.
Step 4
Add organic material to the soil in the hole where you will transplant your pussy willow. Pour in some manure, compost, peat moss or even leaves that have rotted; these add extra nutrients to the soil.
Step 5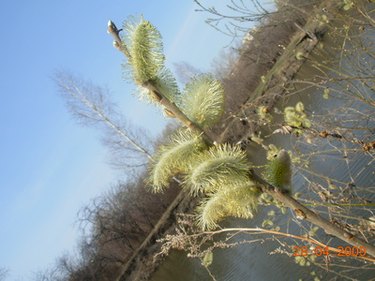 Set the pussy willow in place inside the hole, on top of the added organic material. Make sure the lowest buds -- called catkins -- remain above soil level. Scoop excess dirt and more organic material in around the pussy willow, then pat dirt into place firmly to make sure the pussy willow is stable.
Step 6
Place a hose next to the pussy willow and allow a slow drip to water the plant for four or five days. Water daily for the remainder of the spring if it is dry outside. Gradually cut back on the water as the pussy willow establishes itself.
Tip
You can also propagate pussy willows by cutting off branches, then rooting these in water. Or, simply stick the branch in the ground, mostly buried, and wait for it to grow roots -- a fairly short process of a few weeks. Continue caring for it as you would any other pussy willow.