Things You'll Need
Fabric or tablecloth

Thread

Tailor's chalk or pencil

Sewing machine

Elastic, ¼ inch or ½ inch wide

2 safety pins

Straight pins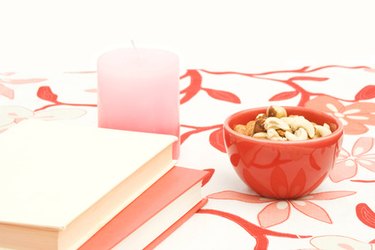 A fitted, round tablecloth gives a practical and attractive table surface to suit the occasion. The snug fit may reduce the risk of children or pets pulling the tablecloth and throwing potentially dangerous utensils or scalding beverages onto themselves. For outdoor entertaining, the smooth fit keeps the cloth stable with no flapping in the breeze. This style gives a clear view of the floor or carpet without any draped material catching on a broom or vacuum.
Cutting
Step 1
Place the fabric wrong side up on the tabletop surface.
Step 2
Mark the fabric with tailor's chalk or a pencil by drawing the outline of the tabletop edge. A large circle will show.
Step 3
Measure the drop or thickness of the table surface. Add 2 inches for encasing and gathering fabric on the underside. For example, a tabletop with a 1-inch thickness plus 2 inches for encasing equals 3 inches.
Step 4
Place the fabric, wrong side up, on a large, flat surface. Draw a larger circle around the smaller circle. The distance between the two circles equals the above measurement. This larger circle will allow the fabric to cover the table surface, the thickness of the tabletop plus the elastic casing.
Step 5
Cut the fabric along the larger, outer circle marking.
Hemming
Step 1
Turn under the raw edges approximately 1 ½ inches to form the casing on the wrong side of the fabric. Turn the raw edge under approximately ¼ inch. Pin in place. Press this hem.
Step 2
Place the fabric wrong side up on the machine's needle plate. Select a straight stitch on the machine's pattern selection.
Step 3
Machine stitch close to the hem's top edge. Remove each straight pin as the fabric feeds on the needle plate. Stop stitching approximately two inches from the starting stitch. Knot and trim the threads. This gap provides an opening for the elastic.
Step 4
Measure the underside of the table with the measuring tape to determine the length of elastic tape. Add 2 inches to this measurement to allow for the bulk of gathered fabric.
Step 5
Cut the elastic tape according to the measurement. Attach a safety pin to each elastic end. Pin one elastic end next to the casing opening. Guide the other safety pin through the opening in the casing. As the elastic works through the circle of narrow casing, gathers will develop.
Finishing
Step 1
Bring the safety pin and a few inches of trailing elastic out of the gap near the beginning stitches.
Step 2
Remove the two safety pins. Overlap the two elastic ends and sew together to form one large loop. Spread the gathers evenly so the elastic disappears into the gap. Stitch the gap closed.
Step 3
Fit the tablecloth on the tabletop. The gathered casing will provide a snug fit under the tabletop surface.
Tip
Use the safety pins to secure any fabric that may droop under the table.