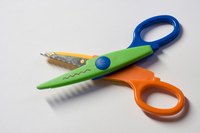 Doily-making is a good introduction to paper arts. Paper doilies need not simply be used as decorations for plates of food; they can be useful additions to other crafts, such as card making. Once you have learned how to make round paper doilies, you can expand your skills to paper lace-making in any shape. Paper lace can be used for an endless variety of crafts; from creating scrapbook borders to holiday decorations.
Things You'll Need
¼ inch grid graph paper
Small paper plate
Pencil
Decorative edging scissors
Variety of paper punches, for example: diamonds, hearts, flowers.
Lay out a sheet of graph paper; place a paper plate on it, face down. Line up the edges of plate with two sides of the graph paper. Draw a circle around plate.
Cut out circle with decorative edging scissors. The perimeter can be wavy, scalloped or zig-zag, depending on your choice of edging scissors.
Select a paper punch. Punch a design about ¾ inch in from the edge of paper circle. Work around circle using grid as a guide. Leave at least ½ inch between punch holes. When you complete the circle, take another paper punch and repeat the process, this time a little farther into the circle, again, using grid lines as a guide. Repeat, using different paper punches, until you have created a pretty lace design.